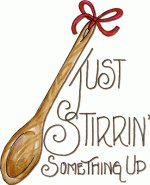 I have a lot of red going on in my kitchen. I often waver in my mind... Red? White? or Both?...Sometimes I want a "granny style" kitchen with that clutter thing going on. Other times I see all of the
lovely pinks
and
exclusive all whites
and think that would be neat too.
If I went into that total pink thing I would have to get rid of a lot of stuff and I'm not sure if I could do that just yet. With $ tight these things would not get replaced easily either.
I'm certain my sense of style has not completely matured. I do have some clue of what to stay away from however
(such as the dated ruffle, cutie cartoon stuff that was popular in the 80's and I hate cute hunting redneck stuff too!! you know the singing bass!? that hangs on the wall in the brown paneled den?) ...
I love love love Shabby, rusty, white, gently used, gently loved, country, thrift store stuff.
The question of the day is .... How have you progressed to the place where your at now with your chosen home decor?
Did you redo or did you get rid of stuff? It seems many of you lovelies have always been confident and made good choices before
pink
was in or
shabby
was in. Did it take years to get to the place of being confident in your choices? or did you always have

"that inner heart"

that led you in the right direction? Do tell!
I want to hear all about it!!
My little white basket was brown .

.


the plate tier got a fresh coat of white ..




the rest of my red dinner ware ..




the brown basket with the red lining is waiting




to be painted white like her sister basket beneath




her...



the glass jars had silver lids and the holder was black. I painted them mat white. I filled them with the spices and seasonings we enjoy when cooking.
The shell received a touch of white paint too.
The little spoon was already enameled white and the ladle too came white and red when purchased at the thrift store some years ago. I wish I could find more of those cute little red and white bowls ... I think it was part of a gift set from Wal-mart that they display around the holidays.
I love using glass bottles with stoppers for water and other liquids. I have a whole set of the floral red dinner ware. The red cloth napkins are fun too.
You can see the white dresser in the background still crying out for knobs!!