Chocolate Caramel Apples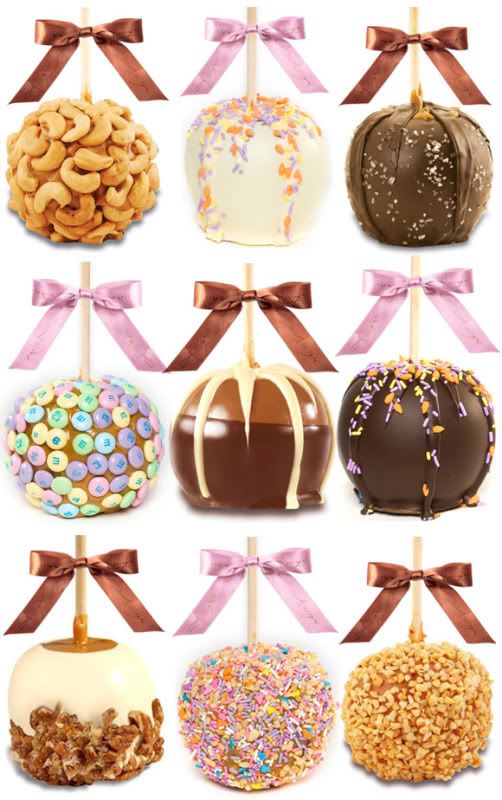 18 small apples
18 wooden sticks
1/2 cup butter
2 squares (2 ounces) unsweetened chocolate
2 cups packed brown sugar
1 cup light-colored corn syrup
1 14-ounce can (1-1/4 cups) sweetened condensed milk
1 teaspoon vanilla
1 cup chopped peanuts
Wash and dry apples. Remove stems. Insert one wooden stick into the stem end of each apple. Set apples aside. Melt butter and unsweetened chocolate in a heavy 3-quart saucepan over low heat. Add brown sugar, corn syrup, and sweetened condensed milk; mix well.
Clip a candy thermometer onto side of pan. Cook over medium heat, stirring frequently, until thermometer registers 245 degrees (firm-ball stage). Remove saucepan from heat. Stir in vanilla. Dip each apple into the hot caramel mixture, and use a spoon to spread the mixture evenly over apple. Allow excess caramel mixture to drip off. Immediately dip bottoms of apples into peanuts. Place apples, peanut side down, on waxed paper and let stand about 25 minutes or until firm. Makes 18.
Source: Better Homes and Gardens
Ok now that we have these wonderful "real to eat" candy apples to appease the grand-darlings we can venture on into the
"Fake/Faux candy apples"
...check out this version at
another fake candle apple idea
. The scentedcottage cuts her fake apples in half and uses them on a sign display..but you can utilize it any way you want.
The
how too's of
the best fake candle apples
is at this blog. You'll love these I promise!! I already have the sticks..the glue and the paint...I just need to get the corn litter. This is too cool for words!!
I think this would be ideal to do with the grand-darlings.